About Us
Our Stormwater Specialists Team has over 35 years in the Stormwater and Construction Compliance Industry. Mary A. Larsen, TOR, QISP, QSD, CPSWQ, CPESC is the President and Founder of Stormwater Specialists, Inc.
From the beginning, our core belief and "roll-up-your-sleeves" approach is the foundation of our Construction and Industrial Stormwater Compliance Team. We are always managing budgets, schedules, eliminating risks, site constraints, resources and watching the bottom line for our Customers and for ourselves as Business Owners. We are your eyes and ears in the field and have our pulse on the Construction and Industrial Stormwater Compliance industries. With our cutting-edge technology, we continue to build more efficient, cost-effective ways to collect accurate data from the field and provide immediate untethered access to the data and reports for our Customers.
We hope that your Team will choose our Stormwater Specialists Compliance Team of experts and allow us to grow and expand on your resources and talent to improve your Company Stormwater Compliance to reduce risk, costs and exposure. We want to become your one-stop-shop for all Stormwater Compliance Reporting, Analytics and Management Information!
Mary A. Larsen - Biography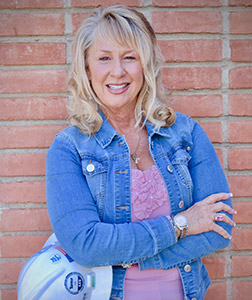 Mary A. Larsen, TOR, QISP, QSD, CPSWQ and CPESC is the President of Stormwater Specialists, Inc. Mary is a Qualified SWPPP Developer (QSD) #024 and Qualified Industrial SWPPP Practitioner (QISP) #065, along with a Certified Professional in Storm Water Quality (CPSWQ) and a Certified Professional in Erosion & Sediment Control (CPESC). In July 2010, Mary became one of the first 30 Trainers of Record (TOR) for the CA Construction General Permit (CGP). Mary is one of the 1st Industrial Trainers of Record (TOR) for Qualified Industrial Stormwater Practitioner (QISP) #065. Mary provides the Qualified SWPPP Practitioner (QSP) and Qualified SWPPP Developer (QSD) Training courses approved by the State Water Resources Control Board (SWRCB). Mary has trained over a 2,500 QSP/QSDs and provides diverse National and State Storm Water Training to thousands of Contractors, Builders, Developers, Trades, Agencies, Districts, Associations, Schools and the General Public.
Mary has over 35 years in the Construction & Industrial Industries and 35 years as a Licensed General Engineering "A" Contractor and provides site specific SWPPP Plans, Inspections, Sampling and Monitoring for Agencies, Districts, Department of Transportation, Builders, Developers and Private Owners on Public Works, Transportation, Commercial, Residential and Industrial projects. Mary and her Stormwater Team have prepared over four thousand (4,000) National and State specific SWPPP Plans for some of the following types of projects including: Large commercial and multi-use projects, street and highway projects, airports, levee projects, bridges, courthouses, demolition and remediation projects, military bases, sport stadiums, pipeline projects, prisons, hospitals, universities, parks, quarry sites, landfills and flood protection projects.
Mary recently served on the Western Chapter of International Erosion Control Association (IECA) Board of Directors and is an active member of CASQA, many Stormwater Associations and multiple National and Regional Builders Exchanges.